After the indulgences of festive eating we found (and tasted) this unexpectedly delicious Roasted Cauliflower recipe.
Who knew how yummy a cauliflower could be when roasted with a bit of oil and seasoning?
It's a transformative and healthy way to cook cauliflower. And it couldn't be easier. Eat as either a side dish or mixed with other salad bits like this Ottolenghi's Cauliflower Salad.
Try the whole recipe or, like us, just do the roasted cauli. Virtuous and delicious!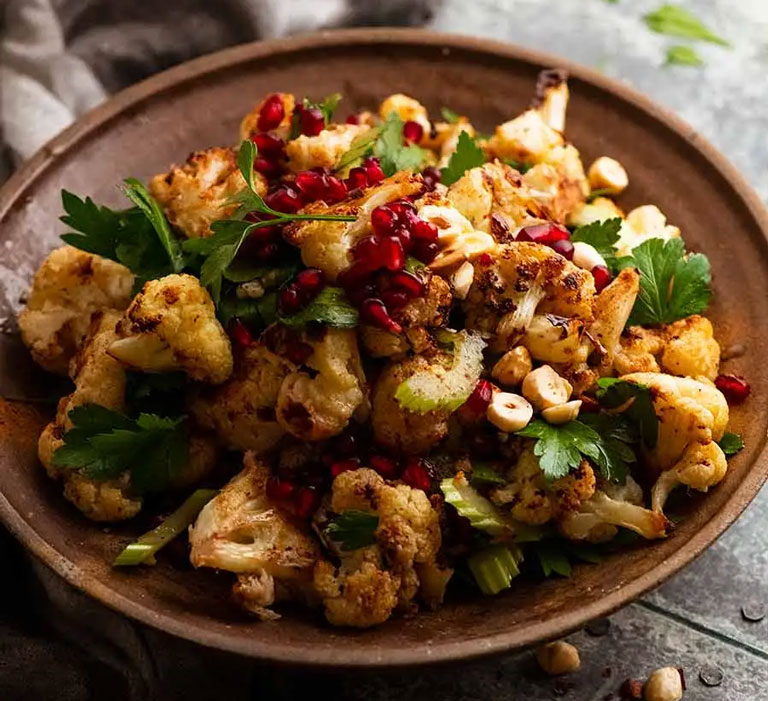 Ingredients
Roasted Cauliflower
1 large cauliflower or 2 small , cut/broken into florets (~650g / 1.3 lb florets)
2 tbsp extra virgin olive oil
1/2 tsp each salt and pepper
Salad
1 celery stalk , cut into 0.5cm / 0.3″ slices on the diagonal
1/3 cup hazelnuts , raw, skin on
1/2 pomegranate , seeds only (~1/3 cup)
1 cup parsley leaves , lightly packed
Dressing
2 tbsp extra virgin olive oil
1/3 tsp cinnamon powder (Note 2)
1/3 tsp allspice (Note 2)
1 tbsp sherry vinegar
1 1/2 tsp maple syrup (or honey or golden syrup)
1/4 tsp each salt and pepper
Instructions
Roast Cauliflower:
Preheat oven to 220°C/425°F (200°C fan).
Toss cauliflower with oil, salt and pepper. Spread on tray, roast 20 minutes, turn, then roast for a further 5 to 10 minutes until the edges are golden brown and the cauliflower is cooked through. Don't let it get overcooked, sad and soggy!
Transfer to bowl and let cool for 20 minutes.
Toast Hazelnuts:
Turn oven down to 160°C/320°F (140°C fan). Spread hazelnuts on tray then roast for 5 minutes until they smell amazing.
Cool slightly, then roughly chop (most skin will naturally fall off).
Salad:
Place hazelnuts, parsley and celery into the bowl. Sprinkle over cinnamon, allspice, salt and pepper. Drizzle with olive oil, maple syrup and vinegar. Toss gently with hands or rubber spatula.
Plate up: Taste, add more salt or pepper if needed. Transfer to serving bowl. Scatter over pomegranates. Serve at room temperature.