Intensive 12-week exercise and dietary
weight management service
This programme is suitable for adults (18 years and above) who are living, working or studying in Tower Hamlets, who are overweight or obese, and living with a physical disability.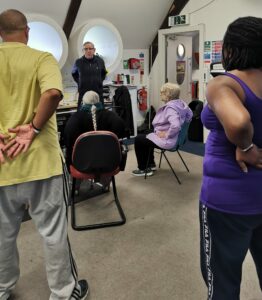 Eat Well & Move is a 12-week programme of focused one-to-one and small group exercise and nutrition sessions. You will be able to;
increase your physical activity levels with support from our expert instructors
work with a dietician to identify ways to eat healthily and to manage your weight
You can choose your sessions to be provided face to face or online (or both).
Our specialist, qualified and experienced team will help you to set achievable goals and manage your weight. We will also advise you on ways to sustain a healthy weight beyond the programme.
Sessions will be run in different areas of Tower Hamlets including Ability Bow Gym, and online.
This Ability Bow programme is offered in partnership with LBTH.
Here's a short video about the programme.
Sign up for Eat Well and Move.
If you have any questions about joining the programme, please contact reception@abilitybow.org or call 0208 9807778
For health professionals wishing to refer patients, please email nelondon.abilitybowreferrals@nhs.net or call 0208 9807778
For health professionals wishing to refer patients: